Webinar: Sanger Sequencing and Fragment Analysis at Your Convenience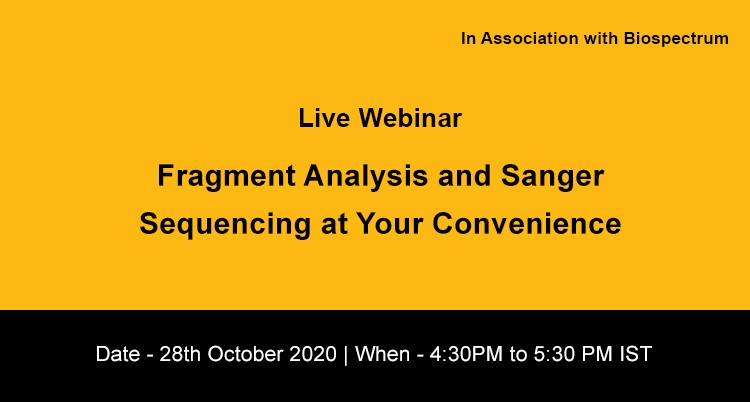 About Webinar
Sanger sequencing is used to study a small subset of genes linked to a defined phenotype,confirm next-generation sequencing (NGS) variants, detect minor allele fractions down to 5%, or read contiguous sequences up to 1,000 bases.
Fragment analysis is a powerful technique with simple, straightforward workflows and used in a wide-range of applications, such as detection of mutations, genotyping, identification of short tandem repeats, and gene expression profiling.
The Promega Spectrum Compact CE System offers Sanger sequencing and fragment analysis right on your benchtop. With flexible run scheduling and an easy-to-use interface, you'll no longer be dependent on sequencing services, batch processing or your colleagues' schedules.
Convenient size designed to fit on your benchtop
Separate consumables cartridges for greater flexibility and reduced consumable waste
Pre-loaded assays for many commercially available sequencing and STR kits
Sanger sequencing applications for verification of NGS base calls and is an efficient method to confirm successful genome edits in transformed cultures, as well as screen secondary clones for successful editing events using CRISPR-cas9 techniques. Spectrum Compact is designed for use with existing sequencing chemistries using fluorescently labeled dideoxynucleotide triphosphate (ddNTPs) and 4-, 5- and 6-dye STR kits from Promega, and other commercially available kits.
In this webinar, we will discuss
Complete workflow for Sangerseuqencing
Promega Spectrum Compact CE System for Sanger sequencing and fragment analysis instrument
Overview of key applications on Spectrum Compact such microsatellite instability analysis, mixed sample analysis, forensic STR analysis, and cell line authentication.
Speaker
Dr. Robert S. McLaren
Senior R&D Scientist at Promega
Speaker's Biography:
Bob McLaren received his Bachelors of Science in Microbiology from University College London and his Ph.D. in Biochemistry from the University of Dundee. After pursuing postdoctoral work at UW Madison and NIH he joined Promega in 1998. Since 2001 the main focus of his work at Promega has been on supporting and developing products for the forensics and paternity testing community. In the last 13 years or so he has been one of the lead R&D scientists developing several PowerPlex® multiplex PCR systems for the analysis of forensically relevant STR markers as well as the SwabSolution™, PunchSolution™, and AmpSolution™ reagents that make it possible to perform direct amplification from a variety of sample types and the PowerQuant® System for the quantitation of total human and male DNA in forensic samples prior to STR amplification. Most recently he was the lead R&D scientist at Promega for the joint launch of the Spectrum Compact CE System with Hitachi High Tech. He is now responsible for the Genetic Identity R&D team at Promega.
Moderator

Manbeena Chawla
PhD
Executive Editor
BioSpectrum
About Promega
Promega Corporation is a leader in providing innovative solutions and technical support to the life sciences industry. Our product portfolio of over 4,000 products supports a range of life science work across areas such as cell biology; DNA, RNA, and protein analysis; drug development; human identification and molecular diagnostics. For over 40 years these tools and technologies have grown in their application and are used today by scientists and technicians in labs for academic and government research, forensics, pharmaceuticals, clinical diagnostics, and agricultural and environmental testing. Promega is headquartered in Madison, WI, the USA with branches in 16 countries and over 50 global distributors. For more information, visit www.promega.com (https://www.promega.in/)